White's Electronics is a world leader in the design and manufacture of metal detectors. The company is currently led by Ken and Mary White, using the same philosophy that was so successful for Ken's father 50 years ago. Give the customers quality and value, treat your employees like you would like to be treated and the future will be bright. Numerous patents are material proof of White's commitment to maintaining this leadership role. As the technology of the electronics industry has changed, so has White's technology - from vacuum tubes to sophisticated computer driven metal detectors for hobby, security and industry.
---
Full color, high definition display. Wireless Spectra Sound & Trade headphones.
---
Professional-level ground-balancing, pulse induction detection. Unlike any other metal detector on the market today, the TDI is capable of remarkable depth and extreme sensitivity in the worst grounds.
---
NEW! MXT™ PRO. The versatility of 3 completely separate hunting programs, now with the added deep-detection of White's proven 12" spider coil. MXT is a favorite of the weekend prospector, coinshooter, and the relic hunter.
---
One metal detector with three completely separate operating modes. Just toggle switch between gold prospecting, coin/jewelry or relic. The MXT™ Tracker™ becomes a specialized metal detector for that type of treasure.
---
Recover buried treasure 4-20 feet deep! If you're after large, deeply buried treasure, underground tanks or pipes, then the TM 808 is the metal detector for you. A serious industrial strength detector for finding lots of metal deep down. If you're after large, deeply buried treasure, chests, coin caches, hoards of gold, underground tanks or pipes, then the TM-808 is the metal detector for you.

---
Prizm™ 5G features new Ground Balance Adjust. Light weight, affordable metal detector with a high performance 9.5" search coil, VCO and MultiTone™.
Coinmaster Pro is a light weight, affordable metal detector packed with White's state of the art know-how. Comes with 9" Spider Coil.
---
The new COINMASTER® is White's most affordable detector, featuring target I.D. and target depth.
---
From its origins in 1985 Minelab has aspired to become the world leader in metal sensing technology. Specializing in advanced electronic technologies, Minelab's competitive advantage was created almost immediately with a highly competent and innovative Research and Development team, inspired by the genius of Mr. Bruce Candy. This commitment to innovation has enabled Minelab to successfully market technologically advanced detection equipment for military and humanitarian de-mining projects throughout the world.
---
X-Terra 705 w/Propack
The X-Terra 705 offers the ultimate detecting experience. An "All-Purpose" detector capable of "all types" of detecting from Coin & Treasure, Relic, Beach to Gold Prospecting, the X-Terra 705 delivers optimal performance across diverse detecting conditions with ease. Performance and features driven, the versatility of the X-Terra 705 makes it without question, the leading product in its category.
---
SAFARI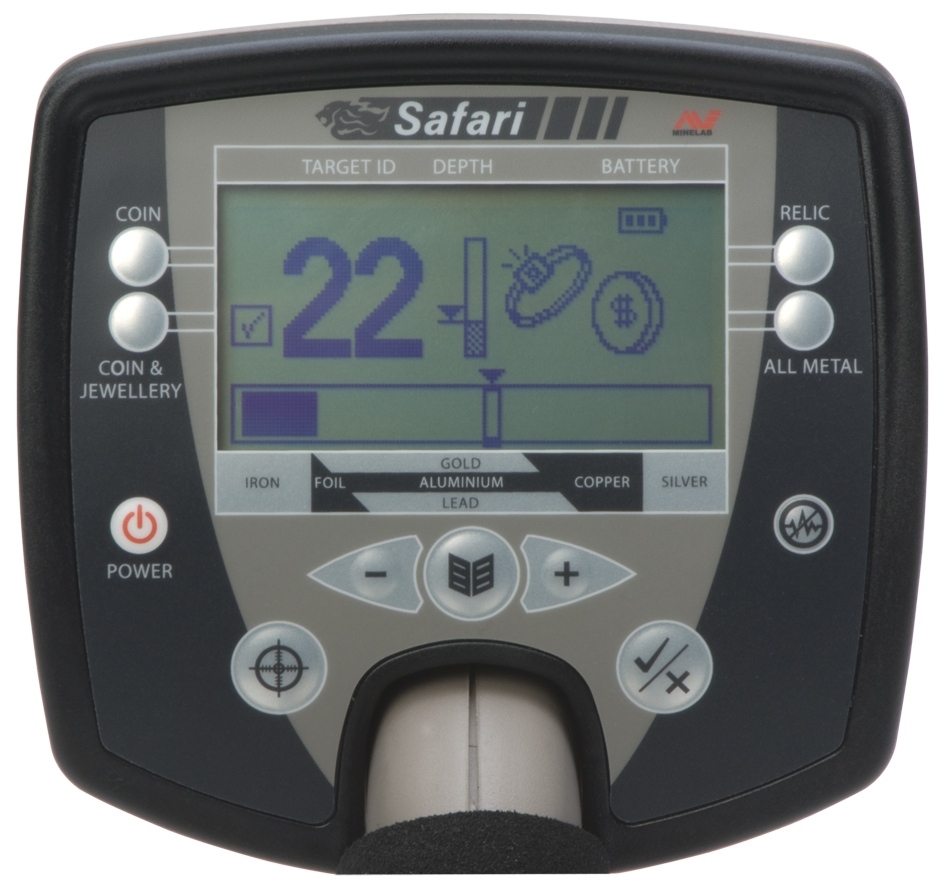 Powered by Minelab's FBS multiple frequency technology, Safari combines deep, sensitive and accurate detecting for anyone demanding both simplicity AND performance!
---
E-TRAC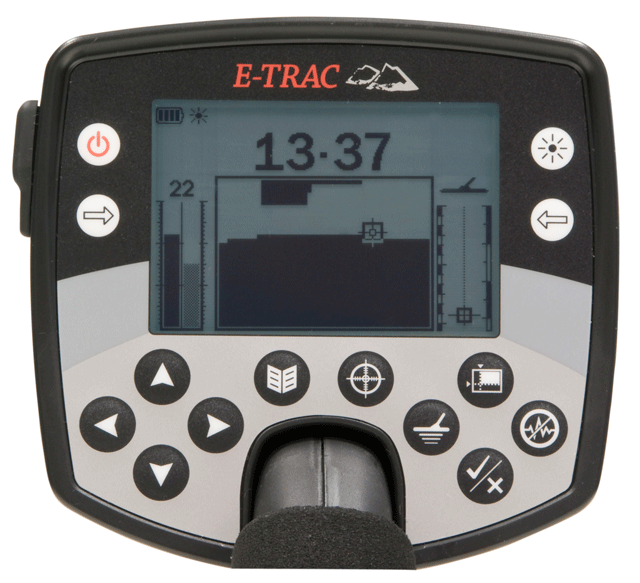 E-Trac is Minelab's most technologically advanced detector, incorporating unique Full Band Spectrum (FBS) Technology. Its sleek, sturdy design, innovative control panel, intuitive menus, clear LCD, robust lightweight coil and comprehensive targeting options set E-Trac apart from any other detector available today.
---
EUREKA GOLD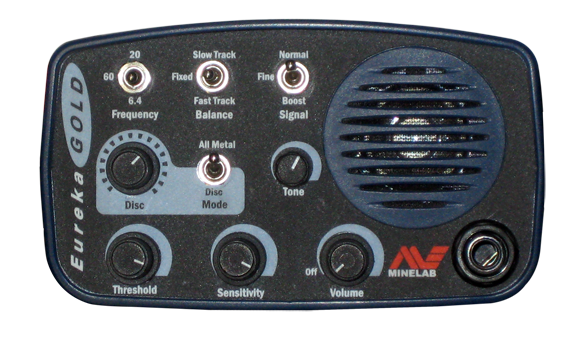 The Eureka Gold gives you 6.4kHz for maximum depth, 20kHz for general detecting and the super sensitive 60kHz to find the smallest gold nuggets that others are missing. Minelab's exclusive triple frequency technology makes prospecting easier!
---
GPX-5000
The GPX 5000 sets the new benchmark in gold detecting technology. With an amazing range of features and functions, the GPX 5000 is not only superior to its predecessor, the GPX 4500, and is in a class of it's own.
---
EXCALIBUR II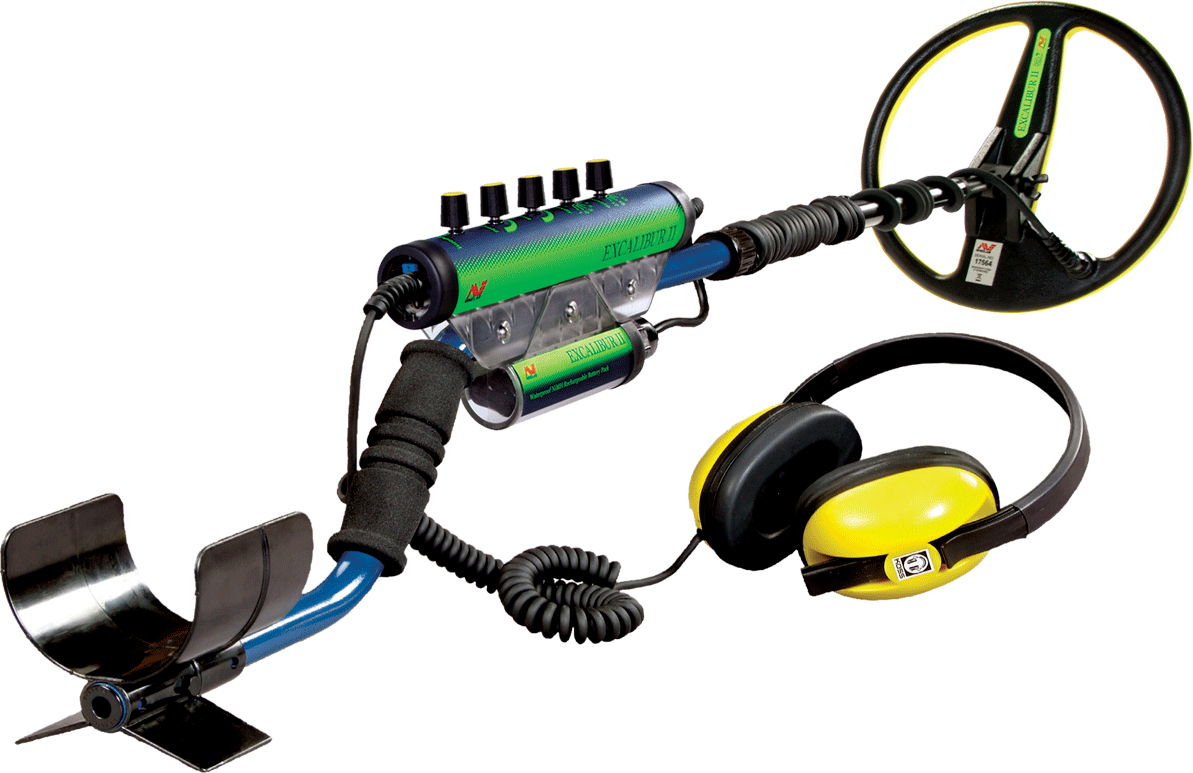 Minelab's unique BBS 17 Frequency and Ground Rejecting Technology makes the Excalibur II the ideal machine. This amphibious detector can move from land, beach, wet sand conditions to underwater depths up to 200ft (66m) seamlessly.
The Excalibur II is the ideal coin and treasure detector.
---
Tesoro is the Spanish word for treasure. The Spanish certainly seemed to understand and appreciate tesoro. Never in the history of the New World has there been a treasure hunt like the Spaniards held. It's hard to think of a better name for a company associated with treasure hunting, or a better symbol of our goals than the conquistador. As the Spaniards were yesterday's undisputed masters of treasure hunting, we at TESORO will always endeavor to meet our goal of making TESORO Metal Detectors today's undisputed masters of treasure hunting."
The Tesoro Compadre was designed with the idea that less is more. This modest machine can do a lot of the same things that its bigger brothers can do. It works great for coin hunting, competition hunting and relic hunting, but it does it without any excess knobs. Switch on the detector and you're working in a silent search, motion all metal mode. The farther you turn the knob, the more discrimination you can bring to bear on those trashy sites. The Compadre now comes standard with a 5.75" round concentric coil. The depth is equivalent to the original 7" concentric, plus the new coil reduces the likelihood of target masking in extremely trashy ground. It also gives you the ability to get into and around natural obstacles like bushes, fences, and playground equipment.
---
The µMax detector that you have been waiting for is here - The Golden µMax. This is a detector that only Tesoro could build. Full size depth, sensitivity, Four Tone Audio ID and a user adjustable Notch Filter Discriminate all placed into the lightest detector housing on the market. At less than 2 ½ pounds, the Golden µMax lets you control what you want to find. Our adjustable notch window lets you, not the engineers, decide how to pick through the pull tabs to find the nickels and gold rings, while the ED 120 discrimination knocks out all of the nasty iron. The tone ID will also give you a great idea of what your target is. The Golden µMax will help you define your targets and make better use of your detecting time.
---
We are very proud to introduce the Tejón. It features a high output transmit oscillator to push the signal deeper and an increased gain for sensitivity to smaller items. The Tejón was designed from the ground up with the coin and relic hunter in mind. It also features a new color scheme from Tesoro- blue, gray and black. The Tejón was over a year and a half in the design stages and represents a new generation of Tesoro detectors.
---
The main part of the Vaquero's versatility is its three and three-quarters manually adjusted ground balance. This will give the detectorist the power to set up his machine to best suit the mineralization conditions that he is working in and his personal treasure hunting style. The Vaquero adds an ED180 discrimination feature to filter the trash from the treasure and a Push Button Pinpoint that makes digging up the goodies that much easier. The discriminate knob is also used to switch into a threshold-based All Metal Mode.
---
The Cibola's main search mode is an ED 180 Silent Search discriminate. A threshold-based All Metal is accessed by the Push Button Pinpoint mode. The ease of use for the Cibola makes it the perfect detector for both the metal detecting novice as well as the treasure hunter that has been around for a while.
---
The Lobo SuperTRAQ is the pinnacle of electronic gold prospecting technology. No other detector gives you the fast, accurate and reliable ground tracking in normal and severe soils like the Lobo SuperTRAQ. Tesoro's famous discrimination circuitry lets you relic and coin hunt too.
---
The Garrett name has come to stand for more than metal detection; it is a philosophy for unparalleled customer satisfaction. While it is true that we believed then, as we do now, that our metal detectors could lead the industry in capabilities and results, we recognized early on that commitment and loyalty to our customers would be our true source of success.
We have learned over the years that there is no price advantage program, special product feature or other promotional advantage that can replace a satisfied customer. We stand behind the idea that one happy customer can be more valuable than the most elaborate advertising campaign. Customer satisfaction will never go out of style and a company that is willing to provide it will always be held in high regard.
---
AT PRO
---
ACE 350
---
GTI 2500
---
AT Gold
---
Ace 250
---
Ace 150