There are many videos available for anyone at any level. Learn the basics about using your machine, tricks of the trade, detecting underwater, etc.
---
Thirteen half hour tv episodes produced for the Outdoor Channel2. They feature everyday treasure hunters discovering artifacts and rare metals around America. Each episode features two to three treasure hunters from California to New York. Packed with treasure hunting tips, history of our country and where to find the best treasure.
---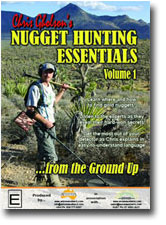 GOLD…one of the most beautiful and precious elements on Earth. There are plenty of nuggets waiting to be discovered, but you have to know where to look and how to find them. Travel alongside experienced prospectors as they lead you through some of Arizona's most stunning backcountry. Learn about the equipment they use, clues to watch for in the field, and other secrets that have enabled them to find 1000's of nuggets with their metal detectors.

Join Arizona's own Chris Gholson, seasoned nugget-hunter, accomplished author and well-known speaker as he shares personal detecting secrets and provides straight forward answers to your prospecting questions.

VOLUME 1

The first in a two part series. This 85-minute digitally edited DVD was filmed entirely in the goldfields of Arizona and is a primer for the up-and-coming nugget hunter. Some of the topics covered include:

---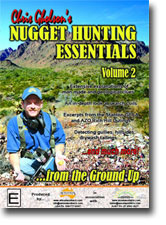 Filmed in the Arizona goldfields, this 2 ½ hour training DVD provides straight-forward answers to some of the most common questions regarding the operation of the GPX metal detectors, specifically the GPX-4500. Viewers will travel alongside us in the goldfields as we discuss the new features, choosing proper settings, coil selection, and other tips on how to achieve maximum performance. There are several 'live' nugget digs captured on film, along with personal interviews from seasoned prospectors Bob "Montana" Dansie and Rob Allison.
---
More to come!